The first DeskSpace 1.5.8 beta is now available to all registered users. Click here to download it from the beta download page. Get it while it's hot!
DeskSpace 1.5.8 will be a free upgrade to the current version, DeskSpace 1.5.7.2.
Standard Disclaimer: This is a beta version of DeskSpace, and it may contain numerous major and minor bugs. We don't recommend it for every day use.
We usually test our betas with a small group of testers, but for 1.5.8 we've opened up the beta to all registered DeskSpace users. Why? One reason is that this version adds support for desktop icon auto-arrange and align to grid when showing different icons on each desktop. It's a feature that's been requested since the first version of DeskSpace, but we weren't able to implement it until now because it was such a difficult technical problem to solve. After months of work we finally have the feature up and running on our test systems, but we now need to make sure it works on as wide a range of computer systems as possible, and our standard group of beta testers is too small to achieve this. The expanded beta will help us flush out any compatibility problems this feature has and make sure DeskSpace 1.5.8 is as bug-free as possible.
Another reason is that we're putting a lot of work into providing assistance to users who find their computer can't run DeskSpace. If your computer has hardware acceleration disabled or has a corrupt video driver installation, DeskSpace will now detect the problem and either try to fix it or tell the user how to manually fix it. Expanding the beta process to run on a much larger group of computers will help us make sure we've covered as many problem cases as possible, and that our fixes are working "out in the wild".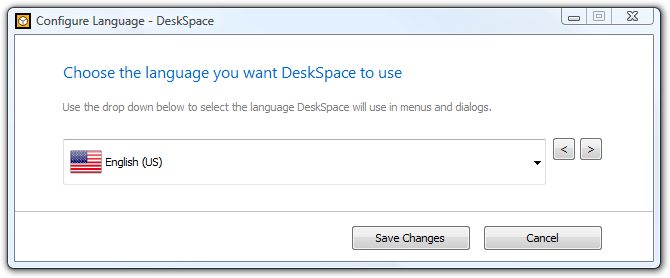 So what's new in DeskSpace 1.5.8? I'll go into the new features in more detail in another post, but the main new features are:
Support for per-desktop icon auto arrange and align to grid.
The ability to (optionally) display an icon for each desktop in the system tray. Clicking an desktops system tray icon switches to that desktop.
New configuration dialogs for window dragging, language, startup, system tray icons and the DeskSpace system tray menu, advanced window options, and advanced graphics options.
A troubleshooting dialog that assists users who are experiencing problems running DeskSpace on their computer.

Based on the results of this beta, we expect to release another two or three beta versions in the coming weeks, and hope to have DeskSpace 1.5.8 ready for release by the end of June. As usual, if you run into any problems with the beta or have any question, either post a comment on this blog or the forums, or contact Support.