A user contacted us today, asking how they could download the full version of DeskSpace they had just purchased. When we couldn't find their order details they sent us their order receipt, and we found that they hadn't actually bought DeskSpace from us. Instead, they had been tricked into purchasing the DeskSpace trial version by Softonic, a European download site.
Softonic lets users download the trial version of DeskSpace via a link to the Otaku Software website. However, they also offer users the chance to "Download DeskSpace from Softonic" for $1.99 USD. This misleading language gives users the false impression that they can buy DeskSpace from Softonic for $1.99 USD. What users are actually purchasing is the ability to download the trial version of DeskSpace from Softonic's servers.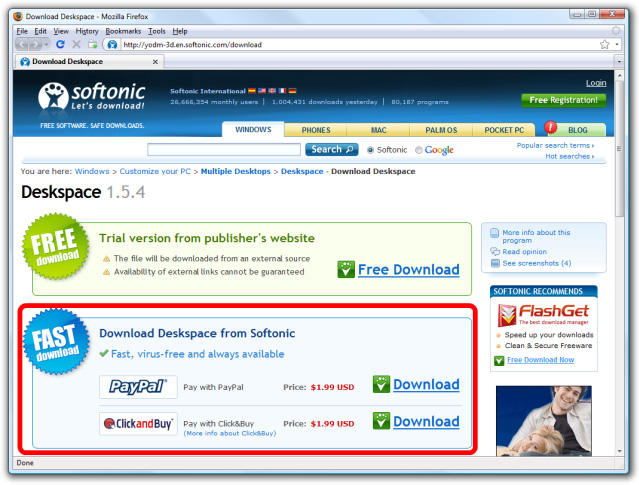 Softonic could avoid any confusion simply by offering the option to "Download DeskSpace Trial Version from Softonic". Instead, they are using ambiguous phrasing to trick unsuspecting users into buying something they should never have to pay for.
Otaku Software is in no way affiliated with Softonic, and they are not authorized to resell our software. DeskSpace is only available for purchase from the Otaku Software Store, and via selected partners such as Bits du Jour.
We have contacted Softonic and requested that they either take down their DeskSpace download page or make it clear that paid downloads are only for the trial version of DeskSpace. I'll update this post if/when we receive a response.