Archive for October, 2005
Friday, October 28th, 2005
Friday, October 21st, 2005
The Firefox find issue has always been a pain and it still isn't fixed in Firefox 1.07 or the Firefox 1.5 beta 2. However, I've found that you can work around this issue if you turn off the "Begin finding when you begin typing" option in the Firefox Advanced Options dialog: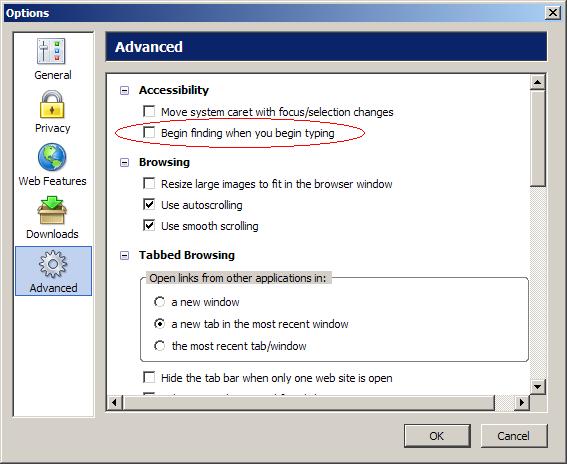 I've been running both Firefox 1.07 and Firefox 1.5 beta 2 with this configuration for around a week and haven't experienced the problem since then. Your mileage may vary though, so let me know if this workaround doesn't work for you.
Friday, October 14th, 2005
Some of the blog posts have been getting hammered by comment spam, so I've turned on comment moderation. I realize it's an inconvenience, but I'd like to think that people read this blog to find out about TopDesk, not online casinos

.