SWITCH BETWEEN WINDOWS FASTER WITH TOPDESK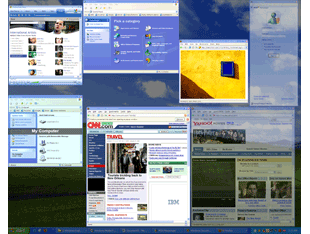 TopDesk radically reduces the time you spend switching between tasks by giving you the ability to quickly find the window you want from a thumbnail view.
With a single key press you can instantly view thumbnails of all open windows, display thumbnails of windows belonging to the current application, or hide all windows to quickly access the desktop.
TESTIMONIALS
"If you're using Windows XP and want to try out one the cooler of Vista's 3D graphics features, TopDesk is the tool for you."
"Finally, my search for a decent Windows Task Switcher is over."
"TopDesk is exactly what I was looking for. Completely configurable, it is lightning fast, smoothly animated and it makes working with multiple windows on the desktop fun and easy."
"I've been using it for half an hour, and I have to say, I'm excited to have this piece of software on my PC."
"TopDesk is a leader in its field."
"TopDesk is my new Alt-Tab."
"TopDesk's Expose-like interface just blew me away. Combined with superb configurability and ease of use, it makes for simply great software."
"I purchased TopDesk months ago when I found that it had the best Expose emulation for Windows XP."
SYSTEM REQUIREMENTS
The minimum system requirements for TopDesk are:
Windows XP SP2, Vista, Vista 64-bit, Windows 7, Windows 7 64-bit, Windows 8, or Windows 8 64-bit.
800 Mhz CPU.
256 MB RAM.
16 MB DirectX 8.1 compatible video card *.
* Minimum ATI Radeon 7200 or nVidia GeForce 2 required. Video cards based on the nVidia TNT2, ATI Rage Pro/128, and Intel Extreme chipsets may work, but are not supported.
FREQUENTLY ASKED QUESTIONS
Can I try TopDesk before I buy it?
Yes, in fact we recommend that you try TopDesk before you buy to make sure it's exactly what you're looking for. Click here to download a 14 day trial version of TopDesk.
Is TopDesk compatible with other programs on my computer?
Yes, TopDesk is compatible with most other Microsoft Windows programs. If you'd like to make sure TopDesk works with all your programs, click here to try TopDesk before you buy.
Can I turn off TopDesk when I don't want to use it?
Yes, you can turn off TopDesk at any time.
How do I install TopDesk on my computer?
To install TopDesk on your computer:
Go to the Help page, enter your email address and order number, then click the Download button.
A window will open asking what you want to do with a file called TopDesk1543Setup.exe. Click Save.
Go to the location you saved the TopDesk1543Setup.exe file to and double-click on it.
The TopDesk Setup Wizard will appear and guide you through the rest of the installation.
After the installation has finished, TopDesk will automatically run and the TopDesk icon will appear in the system tray.
How will I know a new version of TopDesk has been released?
If I have a question about how to use TopDesk, how can I get help?
How do I report TopDesk bugs?
We treat all bug reports extremely seriously. We work hard to make sure TopDesk is as bug free as possible, and we always try to fix the problem as soon as we can. Click here to report a bug in TopDesk.
I have a suggestion on how to improve TopDesk, how do I let you know about it?
We're always happy to hear how we can make our software even better, and we welcome any suggestions or criticisms you have. Click here to let us know how we can improve TopDesk.