NetSet v1.2 has been released. If you connect to more than one network and you're tired of constantly re-configuring your network settings by hand, then NetSet is for you. NetSet saves you time by configuring your network settings for you, allowing you to switch between network settings with a single key press, or choose the network settings you want to use from a pop-up list:
It also includes a replacement for ipconfig, letting you bypass time consuming command line typing and view your network adapter IP configuration with a single key press: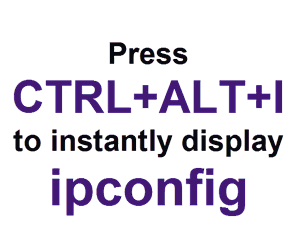 With NetSet, you can:
Store any number of network setting profiles for each network adapter.
Configure DHCP, IP address, and DNS server address settings for each network profile.
Configure the Internet Explorer home page and Local Area Network (LAN) automatic configuration and proxy server settings for each network profile.
Configure the default printer for each network profile.
Execute a shell command after switching to a network profile.
Add network profiles with an easy-to-use wizard.
Quickly switch network profiles via a hot key or by selecting a profile from the Network Profile List.
Instantly display network adapter IP configuration information via a hot key.
Visit the What's New page for more information on what's changed in this version, visit the NetSet page to find out more about NetSet, and visit the Online Store to buy NetSet 1.2.